The Internal Editor Page (Preferences Dialog)
The Internal Editor page on the Preferences dialog allows you to configure options for internal editor.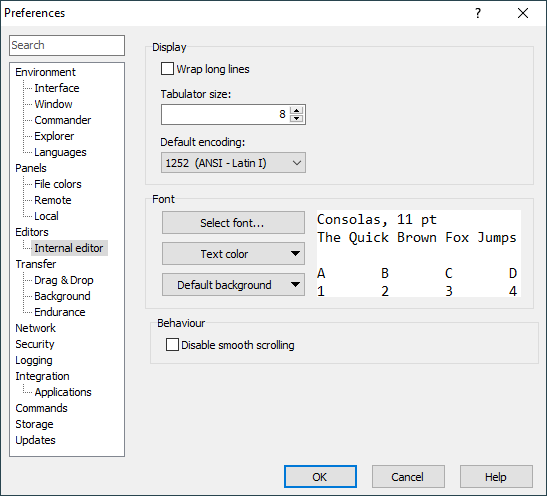 Refer to documentation of page sections:
The Wrap long lines checkbox makes long lines be wrapped in an internal editor. When unchecked, the horizontal scrollbars appear instead to allow you to see long lines.
Use Tabulator size to specify length of tabulator in characters.
Use Default encoding to select default encoding for edited files. If the file includes UTF-8 BOM, UTF-8 encoding is used, disregarding the preference. You can also change encoding for particular file on internal editor window.
Use Select Font button to select font for an internal editor. The preview on the right will show you what the font looks like.
Use Text color to change text color.
Use Default background to change default background color. The color is overridden with session color, if one is set. The color can be changed for each editor window individually on the editor toolbar.