You can use File Mask dialog to edit file mask.
To open the File Mask dialog press Edit button next to File mask field on Select/Unselect dialog, Filter dialog, Transfer settings dialog or Find dialog.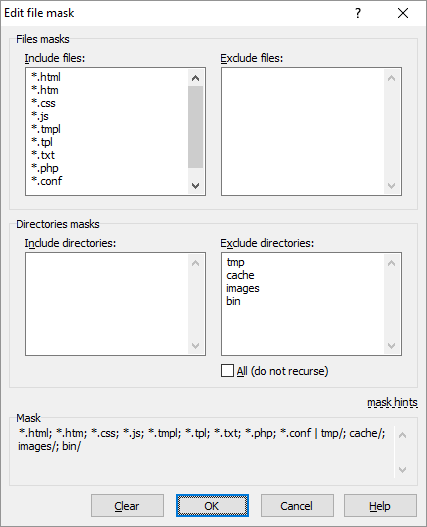 When File Mask dialog opens, individual masks in your file mask (if any) are separated into Include files, Exclude files, Include directories and Exclude directories groups. Each mask in every group is on a separate line.
After you make your changes and close the dialog, the individual masks are merged together back into the file mask. You can see the resulting file mask in Mask box at the bottom while editing.
Use All (do not recurse) checkbox below Exclude directories box to exclude all (sub)directories. It has the same effect as using * mask in Exclude directories box.
See file mask syntax.