The Panels/Local Page (Preferences Dialog)
The Panels/Local page on the Preferences dialog allows you to configure display and behavioral options of local file panel.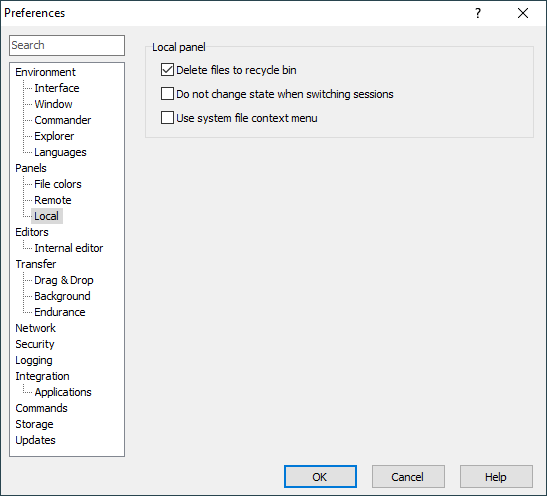 Refer to documentation of page sections:
When Delete files to recycle bin is checked, the removed local files are moved to Windows Recycle bin. This includes files deleted during synchronization (in GUI only, not in console mode). When not checked files are removed immediately without moving to recycle bin.
When Do not change state when switching sessions checkbox is checked, the local path is not changed in local panel, when sessions are switched. It also suppresses effect of Remember panels state when switching sessions for local panel.
Check Use system file context menu to make system file context menu primary menu for local files. If unchecked, WinSCP-specific context menu (with commands like Upload) is primary menu. You can use System Menu command in WinSCP-specific context menu to show system file context menu.