Topic review
i have a problem with listing
What kind of problem?
Thank You for fast answering.
Like the doc states, this is only a feature in the latest beta:
https://winscp.net/eng/download.php
It's not a feature for SFTP so I guess this is not an issue there.
Hope it works.
Hello,
I do not see any listing commands when on FTP + SSL inplicit.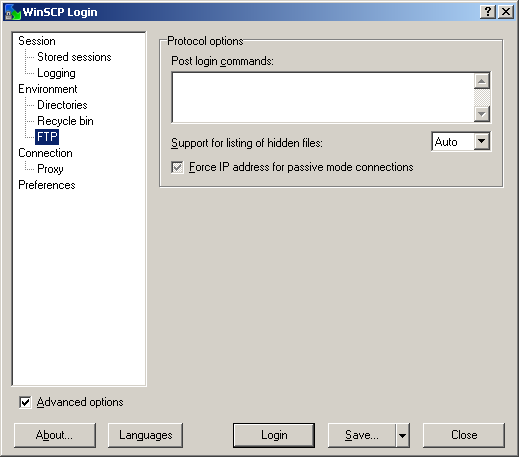 Where I should look?
Hello - does this help?
https://winscp.net/eng/docs/ui_login_ftp
You can set the command to use for directory listing:
The

Use MLSD command for directory listing

controls, if WinSCP uses

MLSD

or (deprecated)

LIST

command for directory listing. When set to

Auto

(preferred), WinSCP decides based on accounced features of FTP servers. Use

Off

only, if server's implementation of

MLSD

command has bugs.
However, for FTP it is limited to either
MLSD
or
LIST
obviously, for SCP you can set the actual listing command.
Personally, I would use the Terminal when having problems listing, but it does not work with FTP either.
Hello,

i have a problem with listing and I would like to avoid it by using a "STAT -l" listing command but I do not see where to set the listing command like in FTPRush.
Anyone can help?

Thank You