5.6 beta - Invalid access to memory - Drag and drop
Hi,
Technical data:
Client:
WinSCP Version 5.6 beta, Build 4526
Windows 7 x64 German MUI
Server:
Gentoo x86,
OpenSSH_6.6p1-hpn14v4, OpenSSL 1.0.1g 7 Apr 2014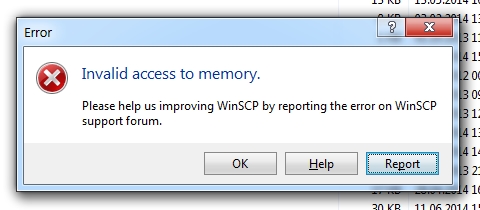 I got the shown error with the 5.6 beta when trying to drag&drop a file from a shown directory to a path in the tree on the left (I use explorer-mode).
This only happens when holding the Ctrl-modifier key to copy a file. After establishing a second connection the error occurs.