The Key Exchange Page (Advanced Site Settings dialog)
The Key exchange page on the Advanced Site Settings dialog allows you to configure key exchange algorithm policy and key re-exchange options.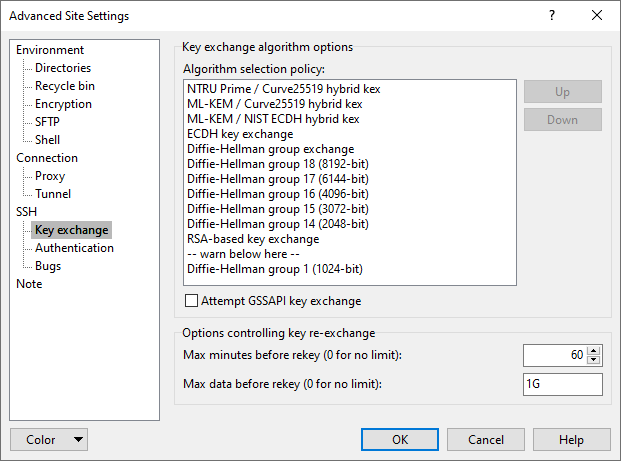 To reveal this page you need to select SCP or SFTP file protocol on Login dialog.
Key exchange occurs at the start of an SSH connection (and occasionally thereafter); it establishes a shared secret that is used as the basis for all of SSH's security features. It is therefore very important for the security of the connection that the key exchange is secure.1
Key exchange is a cryptographically intensive process; if either the client or the server is a relatively slow machine, the slower methods may take several tens of seconds to complete.
If connection startup is too slow, or the connection hangs periodically, you may want to try changing these settings.
If you don't understand what any of this means, it's safe to leave these settings alone.
Refer to documentation of page sections: