The Environment Page (Preferences Dialog)
The Environment page on the Preferences dialog allows you to configure behavioral options of WinSCP interface.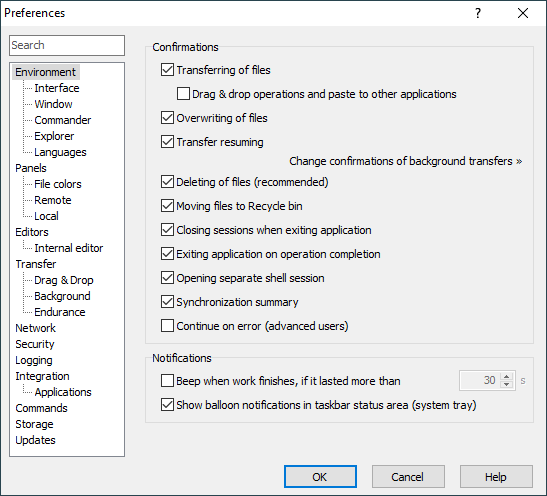 More behavioral options are available on subpages:
Refer to documentation of page sections:
Confirmations panel lets you disable/enable several confirmation boxes that you can be prompted with during various tasks. Some of these confirmations/boxes can also be disabled using Never ask me again (or similar) checkbox on the respective message box (you need to answer it positively to confirm the preference).
The Transferring of files checkbox makes transfer options dialog show before transferring files. When disabled the transfer starts immediately with default options. Confirmation of transfers initiated using drag&drop or uploads to another applications (like Windows File Explorer) using copy&paste can be controlled separately using the option Drag&drop operations and paste to other applications below.
The Overwriting of files checkbox enables overwrite confirmation during file transfers. You also need to have it enabled if you need to use alternative method of transfer resuming. For background transfers, confirmations are by default suppressed. Use Change confirmations of background transfers link to switch to respective options.
The Transfer resuming checkbox enables confirmation of transfer resume. When disabled, the transfer is resumed automatically whenever possible. For background transfers, confirmations are by default suppressed.
The Deleting of files checkbox enables deletion confirmation.
The Moving files to Recycle bin checkbox enables confirmation of deleting of files to recycle bin. The option has effect only when deleting of local files to recycle bin is allowed or when remote recycle bin is configured.
The Closing sessions when exiting application checkbox enables confirmation when closing the application with some active sessions.
The Exiting application on operation completion checkbox enables information message shown before application is closed after operation (like file transfer) is finished. I.e. when some finalizing operation was selected. When unchecked the application closes immediately. This also affects uploading files using Windows File Explorer's 'Send To' menu.
The Opening separate shell session checkbox controls whether opening separate shell session requires confirmation.
The Synchronization summary checkbox controls whether a summary of an operation is shown at the end of directory synchronization.
The Continue on error checkbox allows batch operations (typically file transfers) continue despite some errors. Once the operation is finished, a list of all errors occurred is shown.
The Beep when work finishes… checkbox allows you to configure WinSCP to make sound,1 when operation, lasting more than specified amount of time, finishes. Operations that trigger the sound are:
The Show balloon notification in taskbar status area controls, if balloon notification is shown on various events, such as:
By default, the Default Beep sound is used. If you have no sound of this type configured, the option will not work. To configure the sound, go to Control Panel > Hardware and Sound > Sound > Change system sounds. To configure a different sound, use the raw configuration option Interface\BeepSound.Back
I.e. when transfer queue list is hidden, application is minimized or different session is active.Back